Sisi: Egypt's youths can lead country to better future
Tuesday، 21 June 2016 - 01:01 PM
President Abdel Fattah El Sisi asserted on Monday 20/6/2016 that Egypt's youths are able to lead the country to a better future.
Sisi was addressing an Iftar ceremony in the presence of 500 youths, the first batch of a presidential leadership program. Prime Minister Sherif Ismail and a host of ministers were also present.
"As they represent the future, the priority is given to the youths," said the President.
The President denied any possible difference between youths and old generations as alleged by some in the society.
"No one can harm Egypt as all people are united behind one man," he said.
He voiced hope that the presidential leadership program would be a bid to "see Egypt in a suitable way."
The President wished the youths would realize challenges and problems faced by the country, he said. He urged them to mull how to overcome these challenges.
He thanked the first batch for their efforts exerted in the leadership program.
"They forged ahead in getting knowledge," Sisi said. The program also boosted their abilities to participate well in societal activities, he added.
He hoped thousands of young people would join the program. But this requires a lot of organization and preparation, he noted.
The president said he will confer with a group of youths in September in Sharm El Sheikh in a conference as part of contacts with youths.
393
Tuesday، 21 June 2016 - 01:01 PM
Related Stories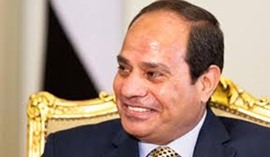 Tuesday، 14 June 2016 - 01:25 PM
Tuesday، 14 June 2016 - 01:20 PM
Thursday، 09 June 2016 - 02:09 PM
Most Visited
Thursday، 26 January 2023 01:56 PM
Sunday، 22 January 2023 12:00 AM
Saturday، 28 January 2023 04:01 PM