(December 5-7, 2016)
Slovenian President's visit to Egypt
Monday، 05 December 2016 - 04:11 PM
Slovenian President Borut Pahor visits Egypt for the first time from December 5-7, 2016, at the head of a high-level delegation, including a number of ministers, officials and representatives from 15 companies representing various sectors including energy, agricultural technology, industry, electricity and telecommunications.
President Abdel Fattah El Sisi received Slovenian President and his delegation and discussed means to enhance cooperation between Egypt and Slovenia in various fields.
Slovenian President will also meet during his visit to Egypt, Prime Minister Sherif Ismail, senior officials and House of Representatives Speaker Ali Abdel Aal.
A number of cooperation will be signed agreements and memoranda of understanding between Egypt and Slovenia in the fields of consumer protection, investment, environment, air services and media.
Trade volume reached euros 86 million last year, noting that trade volume with Egypt witness balanced growth.
This visit is an opportunity for Slovenian companies to explore the Egyptian market, especially that Egypt is associated with free trade agreements with Arab countries, COMESA and Europe, while Slovenia is a gateway to Central and Eastern Europe.


Egypt and Slovenia
237
Monday، 05 December 2016 - 04:11 PM
Related Stories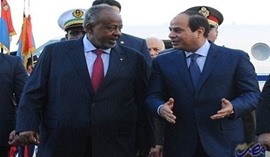 Monday، 31 October 2016 - 05:20 AM
Monday، 31 October 2016 - 05:18 AM
Monday، 31 October 2016 - 05:05 AM
Most Visited
Saturday، 28 January 2023 03:51 PM
Saturday، 28 January 2023 04:01 PM
Monday، 30 January 2023 10:33 PM