Sisi urges alleviating suffering of low-income segments
Friday، 03 February 2017 - 11:44 AM
President Abdel Fattah El Sisi issued on Thursday 02/02/2017 directives to expand social protection networks and take all measures to alleviate the suffering of low-income and most needy people.
The remarks were made at a meeting with Prime Minister Sherif Ismail, Central Bank of Egypt Governor Tarek Amer and the defense, interior, finance and justice ministers, along with the heads of the general intelligence agency and the Administrative Control Authority, Presidential Spokesman Alaa Youssef said.
The president also said that supporting citizens comes via expanding social solidarity programs, guaranteeing that subsidy reach those who deserve it, increasing the required financial resources to provide basic commodities and rationalizing expenditures.
MENA
204
Friday، 03 February 2017 - 11:44 AM
Related Stories
Tuesday، 14 June 2016 - 01:47 PM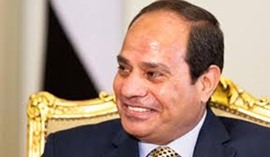 Tuesday، 14 June 2016 - 01:28 PM
Tuesday، 14 June 2016 - 01:25 PM
Most Visited
Wednesday، 23 November 2022 02:13 PM
Wednesday، 23 November 2022 11:42 AM
Monday، 21 November 2022 09:26 PM