Sisi underlines importance of strategic Egyptian-US relations
Friday، 03 February 2017 - 11:58 AM
President Abdel Fattah El Sisi asserted Egypt's keenness on maintaining efforts to revive the Palestinian-Israeli peace process.

Sisi stressed that hammering out a permanent and just solution to the Palestinian issue would present a new reality that would maintain the interests of all Arab countries and contribute to restoring stability.
Sisi made the remarks at his meeting with a delegation from the Middle East Institute of Washington, D.C. led by its President Wendy Chamberlin and comprising a number of former US ambassadors to Egypt.
The meeting was attended by the president's adviser for national security affairs Fayza Abul Naga.
The president underlined the importance of strategic Egyptian-US relations and Egypt's keenness on boosting these relations in the coming period in addition to enhancing cooperation with the new US administration to give momentum to bilateral ties, said presidential spokesman Alaa Youssef.
Sisi also pointed out that the current regional and international challenges require promoting consultations between Cairo and Washington, saying this would have positive impact on the two countries' national security, he noted.
The US delegates hailed Egyptian-US relations as strategic, calling for boosting these relations in the coming period.
They also urged promoting bilateral consultation on regional developments in a way that would contribute to overcoming challenges facing the Arab region including terrorism, Youssef noted.
MENA
285
Friday، 03 February 2017 - 11:58 AM
Related Stories
Tuesday، 14 June 2016 - 01:47 PM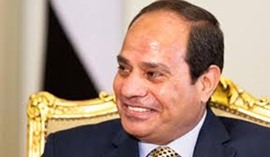 Tuesday، 14 June 2016 - 01:28 PM
Tuesday، 14 June 2016 - 01:25 PM
Most Visited
Wednesday، 23 November 2022 02:13 PM
Wednesday، 23 November 2022 11:42 AM
Monday، 21 November 2022 09:26 PM