Sisi pays surprise visit to Military Academy
Friday، 03 February 2017 - 12:01 PM
President Abdel Fattah El Sisi made a surprise visit early Friday to the Military Academy.
The president shared the cadets their morning exercises. During the visit, Sisi inspected the stages of physical and skills training at the academy. He shared the cadets their bike tour on Cairo streets.
Sisi also attended swimming exercises and had breakfast with them. He lauded their distinguished capabilities.
The president called on them to continue training to boost their efficiency, cling to the sublime military principles and sacrifice for their nation.
The president said the Military Academy students represent an example for Egyptian youths, highlighting their role in protecting the nation.
MENA
202
Friday، 03 February 2017 - 12:01 PM
Related Stories
Tuesday، 14 June 2016 - 01:47 PM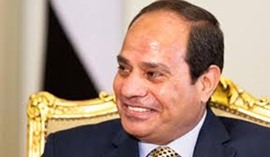 Tuesday، 14 June 2016 - 01:28 PM
Tuesday، 14 June 2016 - 01:25 PM
Most Visited
Wednesday، 23 November 2022 02:13 PM
Wednesday، 23 November 2022 11:42 AM
Monday، 21 November 2022 09:26 PM