Sisi arrives in Addis to participate in AU Summit
Saturday، 27 January 2018 - 02:47 PM
President Abdel Fattah El Sisi arrived in Addis Ababa on Saturday 27/01/2018 to participate in the 30th African Union (AU) Summit, to be held on Sunday and Monday.
Sisi's participation in the AU summit comes within the framework of Egypt's keenness to support and develop its relations with all African countries, as well as to participate effectively in the efforts meant to boost mechanisms of the joint African action.
The summit will be held under the theme "Winning the Fight against Corruption: A Sustainable Path to Africa's Transformation."
President Sisi will chair the AU Peace and Security Council meeting during the summit.
The agenda of Sisi's visit also includes bilateral meetings with African leaders to discuss means of boosting relations as well as the latest developments in the region and Africa.
MENA
254
Saturday، 27 January 2018 - 02:47 PM
Related Stories
Saturday، 18 February 2017 - 12:30 PM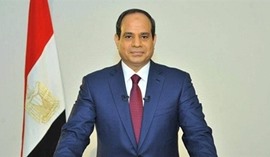 Saturday، 18 February 2017 - 12:25 PM
Friday، 17 February 2017 - 02:33 PM
Most Visited