PM inspects site of financial and business district in New Administrative Capital
Saturday، 24 November 2018 - 02:13 PM
Prime Minister Mostafa Madbouli on Saturday 24/11/2018 inspected the site of the financial and business district in the New Administrative Capital.
The visit comes while the Chinese CSCEC company has started its construction works of the place in cooperation with Egyptian companies.
In statements on the sidelines of the visit, the premier said that the project includes 20 towers and skyscrapers.
He added that the project is one of the major joint ventures between Egypt and China that offer thousands of jobs.
Officials in charge of implementing the project briefed Madbouli on the progress of the project explaining that the up to 90 percent of digging operations have been finalized.
MENA
196
Saturday، 24 November 2018 - 02:13 PM
Related Stories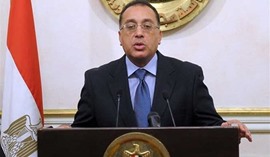 Saturday، 06 October 2018 - 02:32 PM
Saturday، 22 September 2018 - 01:24 PM
Saturday، 15 September 2018 - 06:22 PM
Most Visited
Friday، 23 September 2022 12:00 AM
Friday، 30 September 2022 05:38 PM
Tuesday، 27 September 2022 12:10 PM