PM follows up work progress in Tanzania's dam
Friday، 04 January 2019 - 01:47 PM
Prime Minister Mostafa Madbouli met on Friday 04/01/2019 with officials from El Sewedy Electric and Arab Contractors consortium, after the two companies won a bid to establish a dam on Tanzania's Rufiji River to generate hydroelectric power.
The meeting comes within the framework of the premier's keenness to follow up work progress in the Tanzanian dam, with Madbouli noting that President Abdel Fattah El Sisi attaches great importance to the project, cabinet spokesman Nader Saad said in a statement.
The consortium's officials said they started surveys and conducted studies about the topographical nature of the dam's site.
Some 5,000 workers are set to take part in the project, the spokesman quoted the officials as saying.
In December, the Prime Minister visited Tanzania on top of a high-level delegation to attend the signing of the dam's contract.
MENA
167
Friday، 04 January 2019 - 01:47 PM
Related Stories
Saturday، 15 December 2018 - 12:04 PM
Friday، 14 December 2018 - 01:55 PM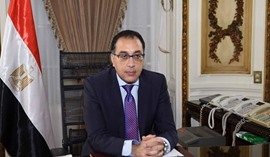 Saturday، 24 November 2018 - 02:13 PM
Most Visited