Apache Corp. plans to increase investments in Egypt -- head
Friday، 18 October 2019 - 02:30 PM
Apache oil corporation has plans to boost investments in Egypt through using the cutting-edge oil and gas exploration technologies, said John J. Christmann, the President, Chief Executive Officer and Director at Apache Corporation.
Apache believes Egypt's petroleum sector has a promising future, especially amid massive development observed by the sector throughout the previous years, the president added.
He thanked Egypt for offering support to his company and removing hindrances facing its operations in the country.
Christmann made the remarks during his meeting with Prime Minister Mostafa Madbouli, currently visiting US.
Investment Minister Sahar Nasr, Petroleum Minister Tarek el Mulla and Egypt's Ambassador to Washington Yasser Reda were present at the meeting.
Premier Madbouli hailed existing cooperation with Apache Corp., expressing hope to promote the investments of the American company in Egypt.
Petroleum minister, meanwhile, praised the fruitful cooperation with Apache and asserted President Abdel Fattah El Sisi's appreciation of the efforts of the company and its support to the country's economic reform program. 
MENA
260
Friday، 18 October 2019 - 02:30 PM
Related Stories
Friday، 19 April 2019 - 03:12 PM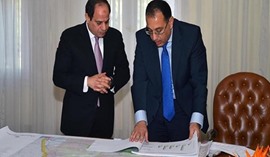 Friday، 19 April 2019 - 02:46 PM
Friday، 19 April 2019 - 02:00 PM
Most Visited