PM reviews bill on forming high commission for pre-university education
Friday، 25 October 2019 - 01:02 PM
Prime Minister Mostafa Madbouli reviewed on Thursday 24/10/2019 a bill on establishing a high commission for pre-university education, technical education and vocational training.
This came during Madbouli's meeting with general coordinator of the advisory council of Egypt's senior scientists and experts Mervat el Deeb.
Establishing the commission comes amid the country's interest in enhancing pre-university education in cooperation with the bodies concerned in university education.
During the meeting, Deeb said the commission shall report to the president of the republic and shall be tasked with adopting strategic educational plans for all sorts and stages of pre-university education.
MENA
92
Friday، 25 October 2019 - 01:02 PM
Related Stories
Saturday، 04 May 2019 - 01:15 PM
Friday، 19 April 2019 - 03:12 PM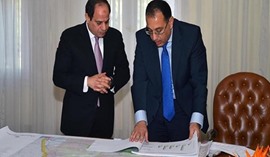 Friday، 19 April 2019 - 02:46 PM
Most Visited