U-23 Africa Cup of Nations
Cairo International Stadium
Wednesday، 06 November 2019 - 05:20 PM
Cairo International Stadium will host Group A, which joins Egypt, Mali, Cameroon and Ghana.
Overview:
Cairo International Stadium was established in 1958 by German architect Werner March, who had built the Olympic Stadium in Berlin. It was completed in 1960, and inaugurated by President Gamal Abd El Nasser on 23 July the same year.
In 2005, the Stadium was upgraded in preparation of hosting the 2006 Africa Cup of Nations. And on the occasion of hosting the 2019 Africa Cup of Nations, development works have been carried out at the Stadium, and an international company is tasked with designing the Cairo Stadium ground to match that of big stadiums worldwide.

- The stadium has a capacity of 75,000 seats, being the second largest in the Arab world, after Borg El Arab Stadium in Alexandria which has a capacity of 86,000 seats.
- The first of its kind made by Olympic standards in the Middle East and Africa.
- The Stadium's ground is a hybrid grass, the state-of-the-art technique used in the stadiums of England and in the 2018 FIFA World Cup in Russia, and the 2014 FIFA World Cup in Brazil.
- Cairo International Stadium has a swimming pool complex, covered halls complex, training arenas with artificial grounds, an international equestrian and bicycles arena (under construction), a squash complex, 4 football arenas, tennis complex and open hall, and covered halls and hockey stadium.
- It is located in Nasr City District, about 10 km from Cairo International Airport, and some 30 km from downtown Cairo.
- It can be easily accessed thanks to the third line of Cairo's subway system.
987
Wednesday، 06 November 2019 - 05:20 PM
Related Stories
Most Visited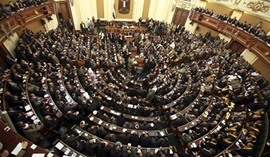 Sunday، 27 November 2022 02:37 PM
Saturday، 26 November 2022 08:57 AM
Wednesday، 30 November 2022 01:33 AM