PM follows up investment opportunities on govt portal for unified industrial map
Saturday، 09 November 2019 - 02:39 PM
Prime Minister Mostafa Madbouli reviewed on Saturday 09/11/2019 available opportunities on the government portal for the unified industrial investment map.
Getting briefed on a report from Director of the National Center For Planning State Land Use Nasser Fawzy, Madbouli said the unified investment map was launched in response to President Abdel Fattah El Sisi's directives to support the investment climate in Egypt and lure local and foreign investments.
Fawzy, on his part, stated that the portal gathers all investment opportunities available in the Egyptian industrial sector through its website www.investinegypt.gov.eg.
About 2,050 industrial opportunities are provided, including 1,491 opportunities in five new cities, he noted.
A six-step procedure is enough for any investor to book an industrial opportunity in Egypt, Fawzy added.
MENA
121
Saturday، 09 November 2019 - 02:39 PM
Related Stories
Saturday، 04 May 2019 - 01:15 PM
Friday، 19 April 2019 - 03:12 PM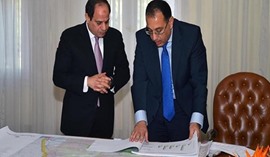 Friday، 19 April 2019 - 02:46 PM
Most Visited