Finance Minister: Egypt seeks to maintain safe economic course under coronavirus crisis
Friday، 15 May 2020 - 11:44 AM
Finance Minister Mohamed Maait said Egypt's wise leadership seeks to ensure that the state is maintaining a safe economic course under the coronavirus pandemic.
In a press release on Thursday 14/05/2020, Maait said the state is building on the gains of the economic reform program so that it would remain on the same track which was feted by international institutions.
The economic reform program has also reinforced the national economy in the face of challenges and crises, he said.
Egypt exerted strenuous efforts over the past years to realize economic stability and it was able to positively deal with the pandemic's economic fallout.
The government took proactive measures to manage the crisis through securing a finance package standing at 2 percent of the gross domestic product in order to support the economy, curb the spread of the coronavirus and mitigate its impact.
The government sought to achieve a balance between protecting people's lives and maintaining the march of production.
He added that the 2.7-billion-dollar emergency financial assistance provided by the International Monetary Fund will help the government secure urgent needs of some sectors, especially the health sector, as well as promoting social protection programs and supporting segments most affected by the coronavirus crisis.
The IMF's approval to Egypt request for this emergency assistance reflects its confidence in Egypt's ability to positively handle the crisis and maintain what was achieved by the economic reform program.
Maait noted that the state is proceeding with its reform measures.
He noted that the government spent over the past two and half months about EGP 40 billion out of the EGP 100 billion which was allocated for funding the state plan for confronting the repercussions of the coronavirus.
About EGP 6.2 billion went to back the health sector to be able to secure urgent medical supplies.
The Minister added that about EGP 14 billion went to securing needed amounts of wheat and supply commodities.
He noted that governmental investments increased by EGP 10 billion, thus contributing to help workers maintain their jobs.
Minister Maait added that the government backed some affected economic sectors by about EGP 15 billion through tax facilities and additional funding.
MENA
296
Friday، 15 May 2020 - 11:44 AM
Related Stories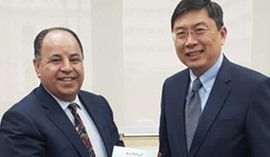 Friday، 10 January 2020 - 12:52 PM
Saturday، 07 December 2019 - 01:07 PM
Saturday، 30 November 2019 - 01:37 PM
Most Visited
Thursday، 26 January 2023 01:56 PM
Sunday، 22 January 2023 12:00 AM
Saturday، 28 January 2023 04:01 PM