Egypt, Niger probe security cooperation
Sunday، 04 September 2022 - 12:00 AM
Interior Minister Mahmoud Tawfiq and his counterpart of Niger Hamadou Adamou Souley have probed cooperation between the two countries in the security field.
During their meeting on Sunday in Cairo, the two ministers tackled security issues of common concern.
Souley said that his visit to Egypt is part of close relations between the two countries, stressing the importance of sharing expertise with Egypt in the security domain.
For his part, Tawfiq emphasized the importance of fostering means of cooperation with Niger in the security field.
He pressed for coordinating efforts to combat terrorism, crimes and illegal migration.
103
Sunday، 04 September 2022 - 12:00 AM
Related Stories
Most Visited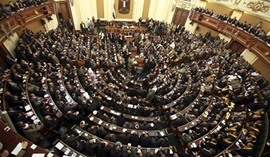 Sunday، 27 November 2022 02:37 PM
Saturday، 26 November 2022 08:57 AM
Wednesday، 30 November 2022 01:33 AM