Egypt offers condolences to Lebanon, Palestine, Syria over sunken boat deaths
Saturday، 24 September 2022 - 05:45 PM
Egypt offered condolences to Lebanon, Palestine and Syria over the death of illegal migrants following the sinking of their boat off the coast of Syria.
In a statement on Saturday 24/09/2022, the Egyptian Foreign Ministry expressed deep sorrow over the tragic incident and wished those injured speedy recovery.
Egypt stressed restoring stability and settling crises in the Middle East will help protecting the lives of its people.
83
Saturday، 24 September 2022 - 05:45 PM
Related Stories
Saturday، 07 May 2022 - 04:23 PM
Saturday، 30 April 2022 - 02:56 AM
Saturday، 09 October 2021 - 03:50 PM
Most Visited
Wednesday، 23 November 2022 07:50 PM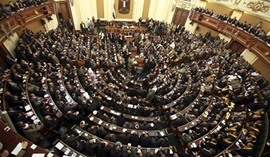 Saturday، 26 November 2022 07:34 AM
Sunday، 20 November 2022 09:47 PM