Sports Minister urges linking science, applied aspects in sports field
Saturday، 08 October 2022 - 11:31 PM
Youth and Sports Minister Ashraf Sobhi asserted on Saturday 08/10/2022 the importance of linking science and applied aspects in sports field.
This came during his meeting with Helwan University President el Sayed Qandil at the headquarters of Faculty of Physical Education for Boys.
The minister added that the ministry is keen on benefiting from the research projects carried out by youths to develop the whole system.
While Qandil said that the university is supporting its students to meet the needs of the local, regional and international labor markets. He noted that the faculty is providing a distinguished academic way that enhances the capabilities and talents of its students. 
MENA
95
Saturday، 08 October 2022 - 11:31 PM
Related Stories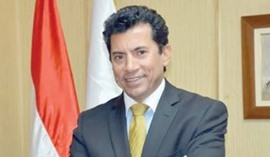 Saturday، 07 May 2022 - 10:22 AM
Monday، 25 April 2022 - 08:20 PM
Saturday، 19 February 2022 - 09:19 PM
Most Visited
Thursday، 25 May 2023 12:23 PM
Friday، 02 June 2023 08:01 PM
Saturday، 27 May 2023 12:00 AM