About 10 projects in Damietta launched by President El-Sisi
Wednesday، 09 November 2022 - 11:23 AM
President Abdel Fattah El-Sisi inaugurated a number of projects in Damietta on 3/12/2019, including the Furniture Industrial City, a multi-purpose area in Damietta Port, a number of housing units, an educational center, and the first five-star hotel in the Delta.


Damietta Furniture City was established on an area of 331 acres, including 1500 furniture workshop centers on an area of 50 to 150 square meters, 150 factories, 54 hangars, a research center working on marketing studies and furniture testing before export, and a shopping center. There will be a company running the commercial center owned by Damietta Furniture Company (49%) and the Military Production Company for projects, engineering consultancy and general supplies.


All facilities have been provided in the city which has been linked to other vital areas of the province. It is expected that Damietta Furniture Company will establish the fifth phase of the city, including 250 workshops, at a price of 6,950 pounds per square meter. Contracts for establishing 500 workshops have been signed, while only 375 workshops have started, and the rest are in their final step with the banks that finance their projects. Over the past four offers, 1,200 centers have been sold.


Shata transformer station was established to provide power for Damietta Furniture City and Shata District, with a capacity of 75 * 2 megavolt-amperes, and a cost of EGP 427.3 million.


The multi-purpose zone is costed EGP 1.4 billion and established under the supervision of the Engineering Authority of the Armed Forces. It consists of berths extending for more than 630 meters and a depth of 17 meters. The area of the yards is around 50,000 square meters, and the area capacity is about four million annually. The area consists of firefighting pumps, sewage ducts, OPS units that can supply ships with electricity, sewage disposal and oil-wasting ships, and PSVs.


The residential buildings in Kafr Saad include 36 four-storey buildings, 432 residential units, and 576 shops. The roads are still paved after installing electricity poles. The residential buildings in the village of Dakahla comprise eight five-storey buildings comprising a total of 64 housing units and 32 shops.
The second phase of the Dar Misr project is established on an area of 30 acres and includes 65 residential buildings including 1,560 housing units, a market and a mosque. The size of the units ranges from 100 to 150 square meters.


The second West Damietta power plant is upgraded by suppling it with systems of air-cooled condenser, and switching to a combined cycle system to increase its capacity by 50 percent to become 750 megawatts and save 35 percent of the gas used.


The Civilian Education Center aims to host conferences, lectures and training courses targeting youth. It extends over an area of 3,775 square meters, and includes 48 indoor rooms, an artificial turf field, four halls for 30 people each, a computer lab, a restaurant, and a hall that can accommodate 200 people.


The cost of building of the El Lisan Hotel is EGP 430 million and is currently managed by Steinberger Company. The hotel consists of five floors, 142 rooms and 16 suites, four halls and meeting rooms, a spa, a beach, two swimming pools, restaurants and cafeterias.


The cost of expanding the sewage treatment plant in Ras El Bar, with a daily capacity of 50-75 square meters, amounted to EGP 220 million. It is scheduled to serve the residents of Ras El Bar, Sinaniya, and the eastern Damietta port area. Damietta Governor Manal Awad said that EGP 91 billion have been invested in the governorate since 2014 until now.


Projects at a cost of EGP 78 billion have been completed, while other projects worth EGP 13 billion are being implemented. The governorate has implemented 29 projects at a cost of EGP 833 million to improve the health sector and about EGP 513 million to construct 17 roads and bridges.


About 76% of the sewage coverage network has been completed and is set to reach 85% by the end of 2020. All slums in the governorate will be eliminated by the end of 2019 as residents are given units in housing projects.
43
Wednesday، 09 November 2022 - 11:23 AM
Related Stories
Most Visited
Saturday، 19 November 2022 10:09 PM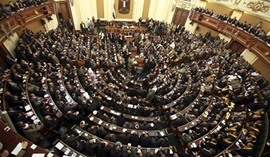 Saturday، 26 November 2022 07:34 AM
Sunday، 20 November 2022 09:47 PM