On COP 27 sidelines, Egypt signs agreements worth $83 billion in renewable energy sector
Wednesday، 16 November 2022 - 02:44 AM
On COP 27 sidelines, Egypt signs agreements worth $83 billion in renewable energy sector
Minister of Planning and Economic Development, and Chairwoman of the Sovereign Fund of Egypt (TSFE) Hala El-Said attended on Tuesday 15/11/2022 the signing of agreements and cooperation protocols worth $83 billion in the renewable energy sector.
The signing took place between the fund and nine investors on the sidelines of COP 27 hosted by Egypt in Sharm El Sheikh.
With regard to the plans of TSFE in the field of renewable energy, the minister said that Egypt has put forward a set of investments in the field of seawater desalination, and that based on it, Egypt has received 300 offers of cooperation from many countries.
El-Said noted that the fund is working hard to mobilize private investments in the fields of renewable energy, green hydrogen, green ammonia, and seawater desalination.
That is why the authorized capital of TSFE was increased from LE200 billion to LE400 billion, with the aim of reaching LE1 trillion within years.
On his part, Executive Director of TSFE Ayman Soliman commented that the agreements signed are in line with the fund's strategy to turn Egypt into an international center for green energy by substituting energy sources that cause carbon emissions by others that are clean.



Egypt Today
156
Wednesday، 16 November 2022 - 02:44 AM
Related Stories
Most Visited
Wednesday، 23 November 2022 07:50 PM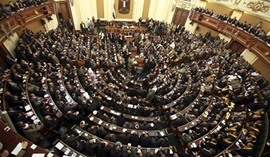 Saturday، 26 November 2022 07:34 AM
Monday، 21 November 2022 12:00 AM