Value of deals Egypt signed at COP 27 is $15B: Environment Minister
Wednesday، 23 November 2022 - 02:13 PM
Minister of Environment Yasmin Fouad
Minister of Environment Yasmin Fouad stated that the value of deals Egypt had signed in COP 27 is almost $15 billion.


During COP 27, Egypt launched an international initiative concerned with raising the safe disposal of waste to 50 percent by 2050. 


The Egyptian initiative sits the ambition to treat and recycle at least 50% of solid waste generated in Africa by 2050, which will contribute to reducing the generation of greenhouse gases resulting from such waste, and reduce the overall impacts of waste pollution on human health, biodiversity, food systems and resource scarcity.
The Minister added that holistic coalition will be launched to address challenges on waste management for the first time in the history of COPs.
The Minister explained that the African continent will witness a tremendous social and economic change by 2050, as the population is expected to grow from 1.2 to 2.5 billion people, and the total waste generation of the continent is expected to more than double from 1.6 to 4 billion tons by 2050. Noting that more than 60% of the waste generated from the continent from urban centers is biodegradable, while 20% is recyclable (plastic, metal, etc.).
By reaching the Initiative's target, the Minister added that Africa would contribute to increase the global waste recycling rate above 50%, reinforcing the global impact of this coalition. It will also contribute to demonstrating adaptation and mitigation solutions in line with the ambition outlined by President Abdel Fattah El-Sisi that "COP27 is an opportunity to demonstrate unity against an existential threat that we can only overcome through concerted action and effective implementation."
The Minister of Environment pointed out that 19 out of the 50 largest landfills in the world are located in Sub-Saharan Africa, highlighting that solid waste emissions from open landfills and landfills represent about 5-12% of the total global greenhouse gas emissions, including short-lived climate pollutants (SLCPs), methane from decomposition of organic waste contributes about 20% of global emissions, and open burning of residues accounts for 11% of black carbon and 29% of fine particulate matter.
The Minister added that project financing and implementation face many constraints in Africa, and it is often seen as the main reason for the poor development of the sector and insufficient capacities in terms of collection and recycling infrastructure. Earlier this year, countries and development institutions have agreed at the United Nations Environment Assembly to draft an international legally binding agreement by 2024 to end plastic pollution. This announcement followed the momentum created after COP26 in Glasgow on the impact of waste management on methane generation.
Yasmine Fouad also explained that the "50 by 2050" initiative seeks to stimulate more investment and efforts to develop African waste management ecosystems, quickly address the persistent challenges by increasing treatment and recycling capacities, determine the necessary level for policy-making and raise the level of continental global awareness. Investments will directly support countries in achieving their NDCs, contributing to all Sustainable Development Goals (SDGs) of the United Nations (United Nations) and ESG targets of the private sector, making this initiative an implementation tool in line with COP27 ambition.

Egypt Today
76
Wednesday، 23 November 2022 - 02:13 PM
Related Stories
Most Visited
Wednesday، 23 November 2022 07:50 PM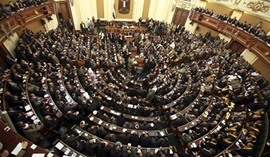 Saturday، 26 November 2022 07:34 AM
Monday، 21 November 2022 12:00 AM