Sisi orders treating veteran journalist at state's expense
Wednesday، 23 November 2022 - 02:46 PM
President Abdel Fattah El Sisi
President Abdel Fattah El Sisi has ordered that the State bear the costs of treating former editor-in-chief of Al Wafd Newspaper Sayed Abdel Aati, said Head of the Journalists Syndicate Diaa Rashwan.


In a statement released Wednesday, Rashwan expressed thanks to President Sisi, on behalf of Abdel Aati's family and all journalists, for his generous decree.


The veteran journalist is in a critical condition and is receiving treatment at the intensive care unit of a hospital.


MENA
25
Wednesday، 23 November 2022 - 02:46 PM
Related Stories
Most Visited
Wednesday، 23 November 2022 07:50 PM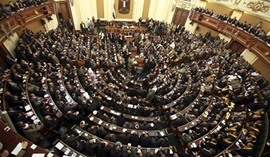 Saturday، 26 November 2022 07:34 AM
Sunday، 20 November 2022 09:47 PM