Keshk
Monday، 20 July 2009 - 12:00 AM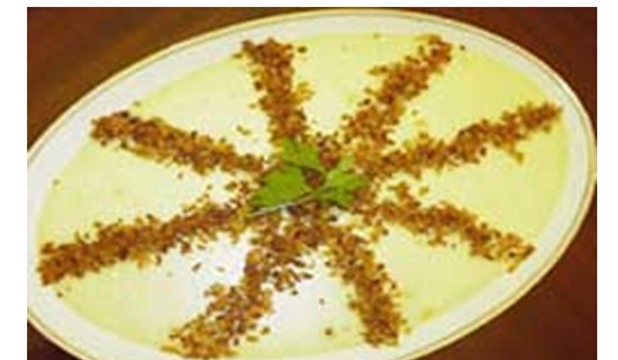 Ingredients
   3 Onions,medium size, chopped
   4 cups Chicken Broth,or 2-3 chicken stock cubes Fine Foods dissolved in 4 cups water
   2 tbsp Lemon Juice
   1 pack Yoghurt
   1 tbsp Ghee
   1/3 cup Vegetable Oil 
   2 tbsp Flour
   Salt
   2-3 tbsp Rice

Directions

1. In a medium deep pan, heat broth over medium heat. Add rice and stir. Leave to cook for 10-12 minutes.
2. While rice is being cooked, heat ghee in a medium skillet. Add 1/3 quantity of chopped onions (1 onion) and fry until golden brown stirring constantly. Pour onion with ghee immediately into boiling broth.
3. In a medium bowl, mix yoghrut, lemon juice and a little salt. Add flour and whisk well to avoid making any clumps. Pour yoghurt mixture in a blender. Add about 1 cup of broth mixture (try to avoid taking onion or rice with broth). Blend until smooth.
4. Pour blended mixture back in pan with remaining broth. Bring to boil. Reduce heat and leave to cook for 2-3 minutes. Remove from heat and pour mixture in one medium serving bowl or in several small bowls. Leave to cool.
5. In a medium skillet, heat oil over medium heat. Add remaining onions and fry until brown. Use to garnish surface of keshk.
1354
Monday، 20 July 2009 - 12:00 AM
Related Stories
Most Visited