Sisi awards Order of Nile to Mansour
Wednesday، 11 June 2014 - 12:00 AM
President Abdel Fattah El Sisi awarded former president Adly Mansour the Nile Order during a ceremony that was held at the Qubba Palace to mark his inauguration.
Sisi issued a decree to honor Mansour who led the country during the critical stage which followed the June 30 revolution.
This was the first decree to be issued by El Sisi as president.
8/6/2014
740
Wednesday، 11 June 2014 - 12:00 AM
Related Stories
Most Visited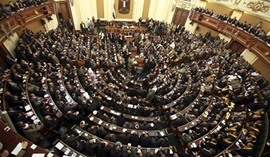 Sunday، 27 November 2022 02:37 PM
Wednesday، 23 November 2022 07:50 PM
Saturday، 26 November 2022 08:57 AM