Egypt Economic Development Conference March 2015
Helal: Agreements signed with investors to reclaim 1.2m feddans
Sunday، 15 March 2015 - 12:00 AM
Agriculture and Land Reclamation Minister Salah Eddin Helal said that cooperation agreements and protocols will be signed with investors to reclaim 1.2 million feddans.
In statements on the sidelines of Sharm el Sheikh economic conference on Sunday, the minister said that he will work to facilitate the measures of reclaiming the lands.
Helal pointed out to the directives issued by President Abdel Fattah El Sisi to develop the country's economy and increase investments.
MENA
349
Sunday، 15 March 2015 - 12:00 AM
Related Stories
Most Visited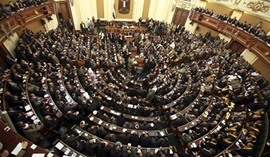 Sunday، 27 November 2022 02:37 PM
Wednesday، 23 November 2022 07:50 PM
Saturday، 26 November 2022 08:57 AM