Egypt Economic Development Conference March 2015
Minister: BP investments urge discovering gas reserves in region
Sunday، 15 March 2015 - 12:00 AM
Minister of Petroleum and Mineral Resources Sherif Ismail underlined that inking agreements of northern Alexandria and west Mediterranean represents a push for increasing the production of natural gas and bridging the gap between consumption and production.
The huge investment volume announced by British Petroleum (BP) Company, which reaches $12 billion, is a strong motive for intensifying exploration works in the Mediterranean.
The minister's remark came on the sidelines of the Egypt Economic Development Conference (EEDC) in Sharm el Sheik.
For his part, BP Chief Executive Bob Dudley said that the west Mediterranean is one of the biggest projects in Egypt, adding that the venture will produce about 25% of Egypt's total production of natural gas.
MENA
428
Sunday، 15 March 2015 - 12:00 AM
Related Stories
Most Visited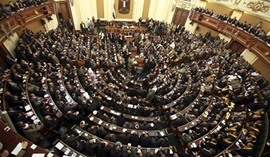 Sunday، 27 November 2022 02:37 PM
Wednesday، 23 November 2022 07:50 PM
Saturday، 26 November 2022 08:57 AM