Egypt Economic Development Conference March 2015
Mahlab orders immediate implementation of EEDC projects
Sunday، 15 March 2015 - 12:00 AM
Prime Minister Ibrahim Mahlab gave directives on Sunday to implement immediately projects that have been contracted in the economic conference.
Chairing a Cabinet meeting, the premier said panels will be formed to follow up the implementation of the projects.
He thanked the ministers concerned for their efforts to render the conference a success.
The premier called also for improving public services and building on what was achieved at the conference. He urged making use of the current morale among Egyptians.
MENA
386
Sunday، 15 March 2015 - 12:00 AM
Related Stories
Most Visited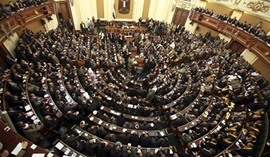 Sunday، 27 November 2022 02:37 PM
Wednesday، 23 November 2022 07:50 PM
Saturday، 26 November 2022 08:57 AM