Egypt Economic Development Conference March 2015
Sisi orders forming working group to follow up EEDC projects
Monday، 16 March 2015 - 12:00 AM
President Abdel Fattah Al-Sisi ordered the formation of a working group to follow up the implementation of projects and investment contracts concluded during the Egypt Economic Development Conference (EEDC), held in Sharm El-Sheikh on March 13-15, 2015 and coordinating between relevant authorities.
The President made the decision during a meeting on Monday 16/3/2015 with Prime Minister Ibrahim Mahlab, the ministers of industry, planning, petroleum, supply, electricity, finance and international cooperation and the governor of the Central Bank of Egypt.
Sisi thanked all the ministries and institutions that contributed to preparing the projects floated during the economic conference, Presidential Spokesman Alaa Youssef said.
Sisi underlined that national companies should be given priority in carrying out the investment projects agreed upon during EEDC.
He also stressed that the first phase of establishing the new administrative capital be completed as soon as possible to ease the congestion in Cairo.
The meeting also took up local economic conditions as the President said limited-income brackets should be given special focus and care, the spokesman said.
MENA
469
Monday، 16 March 2015 - 12:00 AM
Related Stories
Most Visited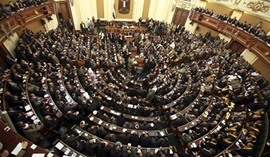 Sunday، 27 November 2022 02:37 PM
Wednesday، 23 November 2022 07:50 PM
Saturday، 26 November 2022 08:57 AM