Egypt Economic Development Conference March 2015
Azhar hails EEDC outcome
Monday، 16 March 2015 - 12:00 AM
Azhar hailed the outcome of the Egypt Economic Development Conference (EEDC) which wrapped up in the Red Sea resort of Sharm El-Sheikh on Sunday 15/3/2015.
In a statement, Al-Azhar, the world's highest learning seat for Sunni Muslims, paid tribute to the painstaking efforts of the Egyptian leadership in organizing the event.
"This conference drew a roadmap for a brighter future for the Egyptians," the statement said.
The statement called on Egyptians to "seize this opportunity and work more and more to see a better future."
MENA
511
Monday، 16 March 2015 - 12:00 AM
Related Stories
Most Visited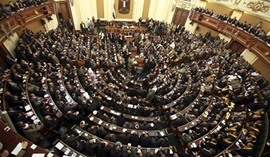 Sunday، 27 November 2022 02:37 PM
Wednesday، 23 November 2022 07:50 PM
Saturday، 26 November 2022 08:57 AM