Egypt Economic Development Conference March 2015
Irrigation Minister: Protocols signed with 19 investors for 600,000 feddans
Monday، 16 March 2015 - 12:00 AM
Irrigation Minister Hossam Moghazi said on Monday 16/3/2015 protocols have been signed with 19 investors during Egypt Economic Development Conference (EEDC) for about 600,000 feddans.
In a meeting with his ministry's officials, the minister said new projects will be launched soon after completing their feasibility studies.
Moghazi added that the EEDC's results were fruitful and exceeded all expectations.
The Irrigation Ministry put forward four projects during the EEDC, including the "Green City" that aims at making use of alternative and renewable energy sources, the minister said.
The reclamation projects of one million feddans and the use of solar power projects were floated during the conference, he added.
The ministry's plans to transform Aswan Governorate into a logistics center for exchanging commodities among the Nile Basin countries were also floated, he added.
MENA
420
Monday، 16 March 2015 - 12:00 AM
Related Stories
Most Visited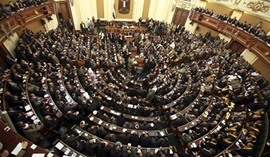 Sunday، 27 November 2022 02:37 PM
Wednesday، 23 November 2022 07:50 PM
Saturday، 26 November 2022 08:57 AM