Anwar al-Sadat (1918-1981)
Anwar al-Sadat (1918-1981)
Tuesday، 16 February 2016 - 11:24 AM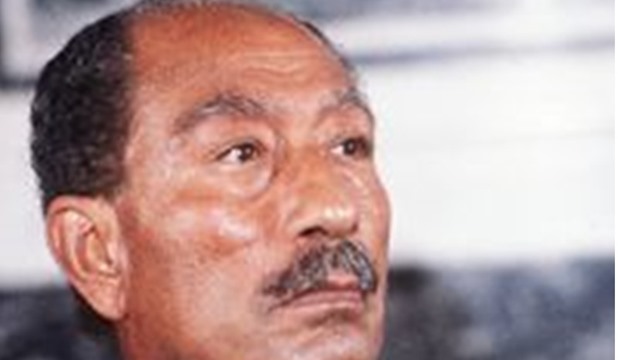 Al Sadat
He was born on 25 December, 1918 in Meit Abul Kom village in Menoufeya Govornorate.
He graduated from the Royal Military Academy in Cairo in 1938 and was  appointed to the Signal Corps. He entered the army as a second lieutenant and was posted to Sudan (Egypt and Sudan were one country at the time).

There, he met Gamal Abdel Nasser, and along with several other junior officers they formed the Secret Free Officers, a movement  committed to freeing Egypt and Sudan from British domination, and royal corruption. When the revolution took place, he was assigned to announce  the outbreak of the revolution to the Egyptian people. He was appointed Minister of State in 1954 and Secretary of the National Union in 1959.


He was elected Speaker of the People's Assembly from 1960 to 1968. He was appointed Vice-President of the Republic and a member of the Presidential Council in 1964. He was elected a member of  the  Higher Executive Committee of the Arab Socialist Union (ASU) and Secretary of the National Political Committee in September 1968.
He was reappointed Vice-President of the Republic in December 1969. He was elected President of the Republic in October 1970 after the death of Gamal Abd El-Nasser and was reelected in October 1976.   
 
Some of the major events of the Sadat's presidency were his "Corrective Revolution" to consolidate power, the break with Egypt's long-time ally and aid-giver the USSR, the 1973 October War with Israel, the Camp David peace treaty with Israel, the "opening up" (or Infitah) of Egypt's economy, and lastly his assassination in 1981. He planned the 1973 war and the crossing of the Suez Canal that resulted in the victory of the Egyptian army.


He led the peace process to re-obtain Sinai. The Peace treaty was signed by Anwar Sadat and Israeli Prime Minister Menachem Begin in Washington, D.C., United States, on 26 March 1979, following the Camp  David Accords (1978), a series of meetings between Egypt and Israel  facilitated by US President Jimmy Carter. Both Sadat and Begin were awarded the Nobel Peace Prize for creating the treaty.
His Books
• Sadat, Anwar (1954). (The Full Story of the Revolution) (in Arabic). Cairo
• Sadat, Anwar (1955). (Unknown Pages of the Revolution) 
• Sadat, Anwar (1957). Revolt on the Nile
• Sadat, Anwar (1958). Son, This Is Your Uncle Gamal
• Sadat, Anwar (1978). In Search of Identity: An Autobiography
On 6 October 1981, Sadat was assassinated by a group of
fundamentalists during the annual victory parade held in Cairo to
celebrate Egypt's crossing of the Suez Canal.
1668
Tuesday، 16 February 2016 - 11:24 AM
Related Stories
Most Visited
Wednesday، 15 March 2023 11:55 AM
Saturday، 18 March 2023 08:09 PM
Saturday، 18 March 2023 05:21 PM