USA
Egypt-US Strategic Dialogue
Thursday، 30 March 2017 12:00 AM
Prelude
On 2 August, Egypt and the United States have launched a Strategic Dialogue in Cairo. This is a critical opportunity for leaders of both nations to discuss the vibrant diplomatic, security and economic ties and position relations towards 21st century imperatives. This strategic partnership is built on mutual interest in promoting prosperity, stability and defeating the common threat posed by international terrorism.

The Strategic Dialogue comes as Egypt's economy continues to expand and modernize for the benefit of all Egyptians. Egypt recorded $5.7 billion of Foreign Direct Investment (FDI) over the first three quarters of FY 2014/15 while the economy grew by 4.7 percent, compared to 1.6 percent growth over the same period last year. The U.S. continues to be one of Egypt's key trading partners with nearly $8 billion in goods and services exchanged between the countries in 2014. U.S. FDI in Egypt totaled $2.1 billion, representing 32 percent of its total FDI in Africa.
The Big Three credit rating agencies—Moody's, Fitch and S&P—have all upgraded Egypt's standing and positively revised their outlooks. Meanwhile, Egypt has signed several deals announced at the highly successful Egypt Economic Development Conference (EEDC). This includes a gas turbine trade deal with General Electric (GE) worth $1.7 billion and a $9 billion deal with Germany's Siemens to supply gas and wind power plants that will boost Egyptian electricity generation by 50 percent.
Egypt's tourism industry, a key economic sector, continues to experience strong growth. The first quarter of 2015 saw a 6.9 percent increase over the same period last year in the total number of foreign visitors to Egypt, including a 30 percent increase in the number of American tourists alone.
On the security front, Egypt continues to take a leading role in ensuring regional stability and security. In 2014, Egypt led efforts to achieve a cease-fire between Israelis and Palestinians in Gaza. Today, Egypt is playing a key role in the international community's efforts to restore stability and establish a national unity government in Libya. Egypt also recently hosted a conference in Cairo of Syria's secular opposition leaders to help forge a sustainable political solution to the crisis there. Meanwhile, Egypt's Navy safeguarded the Red Sea from hostilities in Yemen as part of the U.S.-backed Operation Decisive Storm. Egypt is working closely with the U.S. to combat violent extremism and is a coalition partner alongside the U.S. against the Islamic State terrorists in Iraq and Syria (ISIS), with Egypt providing intelligence and eliminating key sources of funding and recruitment.
Egypt-US Strategic Dialogue
US Secretary of State John Kerry, for his part, asserted that the US would continue to offer support and training for the Egyptian military, highlighting the US delivery of F-16 jets a few days ago.
Kerry said the two countries have large opportunities to cooperate over combating terrorism which required much of the national strategies.
He went on to say that more action should be made to prevent youths from turning to extremist thoughts, adding that strategies in this respect should be based on backing the religious and education authorities to work on the moral aspects.
Success in any country starts with a building of confidence between the official authorities and the people, noting that citizens are being much influenced by the works of the state foundations, Kerry added.
He added that the strategic relations between Egypt and the US are based on opportunities and not threats, Kerry said, stating that with Egypt gaining more power, reinforcement of the cooperation spheres would become a pressing matter.
He also highlighted the important and pivotal role played by Egypt at the regional and international levels.
The top US diplomat also praised the steps taken by Egyptian President Abdel Fattah El Sisi to improve the economic climate in Egypt and provide more opportunities for the businessmen, adding that there should be more to be done and talks in this regard would offer better opportunities.
He added that Washington is strongly willing to back Egypt's economy, Kerry said, praising the important decisions taken by President Sisi in settling the power crisis, reducing subsidies on energy prices as well as granting licenses for the establishment of more energy projects.
He again voiced his country's resolve to carry out mega investment projects in Egypt.
Kerry said the US investments in Egypt in the past year stood at $ 2 billion, citing cooperation in the fields of innovation and patent rights, noting that the US is willing to beef up cooperation in order to support the projects of small- and medium-scale investments, pressing the need for removing barriers to turn ideas to practical projects serving the Egyptian economy and market.
Kerry also reiterated that the US and Egypt are closely cooperating to introduce political reforms and sounding governance which could be the launching pad for the success of any country in the 21st century.
Egypt has always been the center of the Arab world and the whole world, asserting that with the adjustment of its economic conditions, Cairo could restore its strong position once again, he explained.
Washington is committed to boosting its relations with Egypt, Kerry said, noting that Egypt has all the potentials which enable it to provide the basic rights to its citizens as well as the freedoms of press and expression.
He also voiced hope that this dialogue would bear fruit in the relations between the two countries, noting that friendship between the two countries is basically based on a common recognition of the joint interests and the importance of cooperation in fighting terrorism.
Most Visited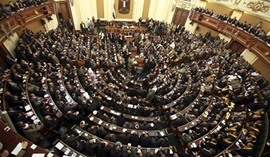 Sunday، 27 November 2022 02:37 PM
Wednesday، 23 November 2022 07:50 PM
Saturday، 26 November 2022 08:57 AM