Canada
Political Relations
Tuesday، 26 January 2016 12:00 AM
In 1956, Canadian Minister of Foreign Affairs played an important role in resolving the Suez Crisis by proposing the establishment of the United Nations Emergency Force (UNEF) in Sinai; a role which earned Pearson the Nobel Prize for Peace in 1957. This marked a watershed event in bilateral relations whence Egyptian-Canadian cooperation grew to encompass a wide range of areas which cover economic, commercial, cultural, and developmental issues. 
In 2014, Egypt and Canada celebrate the 60th anniversary of the commencement of their diplomatic relations. For the most part, relations between both countries were based on a mutual understanding of their respective importance on the international arena, especially on issues related to the Middle East and Africa. Moreover, both countries are also active and influential members of a number of multi-lateral inter-governmental organizations, which adds to the imperative of their mutual relationship.
Canada maintains an active presence within the Multinational Forces and Observers (MFO) in Sinai, while Egyptian and Canadian peacekeepers continue to serve side by side in a number of peacekeeping operations in Africa.
Both countries established a Political Consultations Committee which convenes regularly, and alternately between both capital cities. The last round of these Bilateral Consultations was held in Cairo, in March 2013, and was headed from the Canadian side by then Deputy Foreign Minister, and from the Egyptian side by the Assistant Minister of Foreign Affairs.
Moreover, 2010 witnessed the launch of the Strategic Dialogue between both countries, which meets at the level of the Foreign Ministers. The first meeting of this Dialogue was held in Cairo on the 26th and 27th of August, 2010, during the visit of Canadian former Minister of Foreign Affairs to Egypt.
More recently, the Foreign Ministers of Canada and Egypt met a number of times, including a meeting on the margins of the UN General Assembly in September 2013, and another meeting on the Margins of the World Economic Forum which was held in Davos, Switzerland, in January 2014.
Moreover, Cabinet-ministers visit Canada annually to attend meetings of the Egyptian-Canadian Business Council established in 2002.
 
Most Visited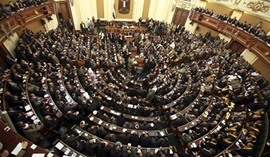 Sunday، 27 November 2022 02:37 PM
Wednesday، 23 November 2022 07:50 PM
Saturday، 26 November 2022 08:57 AM