Japan
Cultural Relations
Thursday، 26 November 2015 12:00 AM
Egyptian–Japanese relations have witnessed a lot of active events and developments throughout the past three years.  The year 2008 was named the "Year of Science and Technology Cooperation".
The Cultural nature overwhelmed the aspects of cooperation between Egypt and Japan ever since the first direct encounter between the two countries occurred about 150 years ago by the end of Edo period in the years 1862 and 1864 upon the arrival of the two samurai missions to Egypt - in their way to Europe. As a result, the Egyptian interest in Japan came out at the beginning of the 20th century when the Egyptian political leader "Mostafa Kamel" introduced a cultural portrait of Japan in his book "the Land of the Rising Sun" published in 1904. A year later a famous poet, known as the poet of the Nile, "Hafez Ibrahim", wrote a beautiful poem about Japan on the occasion of the Japanese victory on Russia. Few years later, in 1923 the "Prince of Poetry", Ahmed Shawky, wrote a sympathetic poem with the victims of the disaster of Kanto Earthquake.
The relations of the two countries evolved on 1928 by establishing consulates in the two countries as a result of political recognition of Egypt's independence by Japan in 1922. Embassies were later established after the July 23rd, 1952, revolution in Egypt.
The signing of the cultural cooperation agreement between Egypt and Japan in 1957 led to the arrival of the first Egyptian student to Kyoto to study in Japan in 1958.
Since September 2007 until now, the Egyptian Embassy in Tokyo targeted the diversification of the cultural activities in order to increase the awareness of the Japanese public of contemporary Egypt to a level equal to the Japanese people's passion for ancient Egypt.
The cultural events and activities also continue throughout the year 2010 "The Year of Egypt Media Promotion in Japan".
Most Visited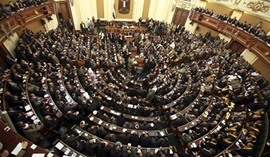 Sunday، 27 November 2022 02:37 PM
Wednesday، 23 November 2022 07:50 PM
Saturday، 26 November 2022 08:57 AM