Mutual Visits
Monday، 26 October 2015 12:00 AM
On 29/10/2015: President Abdel Fattah El-Sisi extended an invitation to Indian Prime Minister Narendra Modi to visit Egypt with the aim of boosting cooperation between the two countries. During his meeting with the Indian prime minister, Sisi also discussed with him ways of boosting bilateral cooperation in trade and investment spheres along with ways of combating terrorism. The meeting was held following the opening session of third India-Africa Forum Summit in New Delhi. 
On 24/8/2015: President Abdel Fattah El-Sisi received Indian External Affairs Minister Sushma Swaraj for talks on ways to boost bilateral ties.
On 5/8/2015: President Abdel Fattah El-Sisi received a message from Indian Prime Minister Narendra Modi on India's keenness on boosting bilateral ties in all fields. The message was handed over by Indian Prime Minister's Special Envoy and Road Transport Highways and Shipping Minister Nitin Gadkari who arrived Egypt to attend the New Suez Canal inauguration ceremony. Upon his arrival, the Indian official met Sisi and conveyed Modi's greetings, expressing his country's willingness to foster bilateral relations. During the gathering, Gadkari hailed the New Suez Canal project as a remarkable achievement, saying that India has great interest in investing in this mega project, the presidential spokesman added.
On 7/7/2015: Indian Minister of State for Parliamentary Affairs Mukhtar Abbas Naqvi visited Egypt and met President Abdel Fattah El-Sisi. Naqvi invited Sisi to attend the third Indian-African Forum Summit. They also discussed means of boosting bilateral relations and countering terrorism. Sisi told Naqvi that Cairo is looking forward to enhancing ties with New Delhi in all fields. The President also praised India's success story in achieving political and economic progress, which helped place the Asian country among emerging world powers that were able to achieve quick and high growth rates. Sisi told Naqvi that Egypt is also keen on benefiting from the Indian experiment in fighting terrorism.
On 31/7/2014: Prime Minister Ibrahim Mahlab received Indian Ambassador to Cairo Navdeep Suri and discussed means of boosting bilateral relations in the coming period especially in economic, trade, cultural, and artistic fields. During the meeting, Suri said his country supported Egypt's current economic reforms. Meanwhile, Mahlab expressed his keenness to attract more Indian investors and tourists to Egypt in the coming period. He said he will work on easing all difficulties facing Indian companies operating in Egypt.
On 4/6/2014: President of India Pranab Mukherjee and Prime Minister Narendra Modi have sent congratulatory messages to the President-Elect of Egypt, Abdel Fattah El-Sisi, on his successful election. In his message, the Indian President has said he had closely followed the developments in Egypt, and has "always wished the best for your great country and its friendly people."  Prime Minister Modi, also offered his congratulations to the President-Elect, stating that he was "confident that under your able leadership, Egypt will witness a new era of stability and prosperity," and that he "looked forward to working closely with you to further strengthen and expand our relations in the years ahead to fulfill the aspirations of our peoples."
On 5/12/2013: Foreign Minister Nabil Fahmy visited India. Fahmy discussed with Vice President of India Hamid Ansari the conditions in Egypt as well as means of boosting bilateral ties. The talks also tackled a host of regional and international issues as well as the Syrian crisis and the Egyptian initiative to render the Middle East free from weapons of mass destruction. During the visit, Fahmy had talks with his Indian counterpart Salman Khurshid on developing bilateral cooperation in the political, economic and trade domains. He underlined the importance of holding strategic dialogue with India on regional and international issues of mutual concern. Fahmi urged India to pump more investments to Egypt.
On 16-19/11/2008: Former President Hosni Mubarak visited New Delhi which provided a strategic dimension to the bilateral relations.
Most Visited
Saturday، 19 November 2022 10:09 PM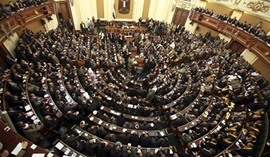 Saturday، 26 November 2022 07:34 AM
Sunday، 20 November 2022 09:47 PM