Culture Cooperation
Monday، 26 October 2015 12:00 AM
The return of Indian films to Egypt
Ambassador Navdeep Suri hosted a reception for the media on 25 September, 2014 to celebrate the return of Indian films to Egypt after a gap of 25 years which is coinciding with the 100th year of Indian cinema. The President of the Cairo International Film Festival, Mr. Samir Farid, Egyptian director and actress, Aida al-Kashef, Egyptian actress Lubna Abdel Aziz were among the dignitaries at the event.
Mr. Samir Farid, said that Indian cinema has a long tradition, and that power of Asia was reflected in the global influence of Indian cinema. He further said that it was the right of Egyptian audiences to have the opportunity to see Indian films in theaters.
On International Day of Peace, Alexandria Governor releases Arabic translation of Book on Gandhi
As part of the celebrations for the International Day of Peace, under the auspices of the Maulana Azad Centre for Indian Culture (MACIC), Cairo and the Bibliotheca Alexandrina, H.E. the Governor of Alexandria, General Tarek Mahdi launched the Arabic version of Ambassador P. A. Nazareth's book Gandhi's Outstanding Leadership on the 21st of September 2014. Prior to the release, Ambassador Nazareth and the Ambassador Navdeep Suri, the Indian Ambassador in Egypt released white pigeons symbolizing peace at the Bibliotheca premises. 
'India through Egyptian Eyes' – The Cairo Camera Club presents experiences from their India visit
On 22/6/2014: The Maulana Azad Centre for Indian Culture (MACIC) in association with Discover India in Egypt group held a lecture on 'India Through Egyptian Eyes'.   A group of members from the Cairo Camera Club (CCC) visited India and recorded their experiences in India.  Some of the members shared these experiences and presented a selection of their photographs.'Discover India in Egypt' has worked for many years in order to energize the relationship between the Egyptians and Indians in Egypt and to spread Indian culture in Cairo and other governorates. The group has been organizing various activities to build people to people relations, which includes international trips to India, movie nights and discussions, meditation classes, social gatherings, organization of Holi, the festival of colours, etc.
Most Visited
Saturday، 19 November 2022 10:09 PM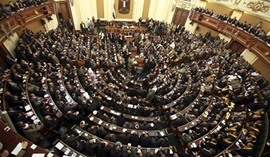 Saturday، 26 November 2022 07:34 AM
Sunday، 20 November 2022 09:47 PM