Nuclear project Abdel Nasser's dream Sisi's achi
Signing the agreement between Egypt and Russia
Sunday، 29 November 2015 12:00 AM
The signing of this agreement for the establishment of the nuclear plant is the fastest in history of its kind, where President Abdel Fattah al-Sisi witnessed on Thursday, November 19th 2015 at the presidential headquarters in Heliopolis the actual real beginning of the project, which has long awaited to achieve the Egyptian dream of joining the ranks of countries possessing peaceful nuclear energy.

Two agreements and a memorandum of understanding were signed between the two sides, the first agreement to cooperate in the establishment and operation of the nuclear power plant in Egypt, was signed by Sergy Krenka Chairman of "Ross Atom" for nuclear power plants from the Russian side, and Mohamed Shaker Almraqbi Minister of Electricity and Renewable Energy, from Egypt side, that in the presence of a number of officials of the Egyptian Nuclear Energy Authority, officials of the Russian company and Russia's ambassador in Cairo.

The second agreement was between the governments of Egypt and Russia under which Russia offers to Egypt government a loan to establish a nuclear power plant in the Arab Republic of Egypt. The agreement was signed by Finance Minister Hany Kadry Demian from the Egyptian side and Russian Deputy Finance Minister Sergei Anatoly for the Russian side.

The signing of a memorandum of understanding (MOU) between Nuclear and Radiological Supervisory Board from the Egyptian side and the Federal Environmental, Technological and Nuclear Supervision of Russia system from the Russia side, to cooperate in the peaceful use of nuclear energy.

The MOU was signed by Vice President of Nuclear and Radiological Control Authority in Egypt, Walid Ibrahim Zidan from the Egyptian side and the Vice president of the Federal Environmental, Technological and Nuclear Supervision of Russia system.

The documents of the agreement determine a number of other project-related topics such as:
  The supply of nuclear fuel for nuclear power generation units,
  the obligations of each party during the operations,
  maintenance and repair units of nuclear power generations and Etc,
  how to spent nuclear fuel reprocessing,
  training of employees in the units of nuclear power generation, and
  helping Egypt in improving the standards and legislation on nuclear energy and infrastructure sector.
Most Visited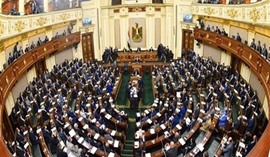 Saturday، 13 August 2022 01:18 PM
Sunday، 07 August 2022 01:18 PM
Tuesday، 09 August 2022 10:12 AM