Côte d'Ivoire
Economic Relations
Monday، 14 December 2015 12:00 AM
Economic Relations
The Nasr Company for Import and Export has a branch in Abidjan that goes back to the mid-sixties of the last century. It is regarded as one of the first companies that worked in Côte d'Ivoire after independence. The company, also, owns a residential and an administrative building bearing its name in the center of Abidjan. And despite the economic changes internationally and regionally, besides the strong competition of European and Chinese products, the company still plays an important role in concluding trade deals between the two countries and in bringing businessmen together. The value of deals concluded by the company in 2009 amounted to about four million dollars in Egyptian exports, salient of which are cement, Glucose, household appliances (cookers, air conditioners, refrigerators), food oils, and car glass.
The Egyptian "Arab Contractors" company implemented the "Jacques Ville" bridge project, which President Bajbo laid its foundation stone on July 8, 2009, in the presence of the Egyptian ambassador and president of the "Arab Contractors" company. This is considered as one of the most important strategic projects in Côte d'Ivoire, to which the Ivorian side gives great importance. It has been a dream for the region's people for generations since it is expected to achieve a development boom in the region it passes through, as it links between the city of Jacques Ville and the economic capital of Abidjan, with a length of 571 meters, at an estimated cost of sixteen billion CFA francs (about 37 million dollars). The project is funded by several entities, namely the Arab Development Bank in Africa by 33.88%, the West African Development Bank by 33.35%, the OPEC Fund by 27.38% and the Ivorian government by 5.84%. The project will take twenty-four months to be completed by July 2011, as scheduled.
In July 2009, a memorandum of understanding was signed with the Ivorian Ministry of Energy and Mining to establish several projects in Cote d'Ivoire.
In June 2010, Egypt Air made final arrangements to resume its direct line between Cairo and Abidjan, after its flights had been suspended in 2004 due to the repercussions of the internal crisis in Côte d'Ivoire at the time.
In December 10, 2017, Egyptian exporters and businessmen met with the Vice-President of Côte d'Ivoire to enhance trade exchange.
On March 13, 2018, Hisham El-Demiri, the Egyptian Tourism Promotion Authority, had a meeting with Esiolo Kwa, Assistant Minister of Tourism of the Republic of Cote d'Ivoire to discuss ways of joint cooperation, exchange of visions, evaluating tourism relations and working to strengthen their ties.
On May 23, 2018, Eugène ALLOU-ALLOU, Ambassador of Cote d'Ivoire in Cairo confirmed that the two presidents, Abdel Fattah El-Sisi El-Hassan Ouattara, are keen to boost cooperation relations between Cairo and Abidjan to broader horizons, praising the deep relations between Egypt and Cote d'Ivoire in various fields, which he described as at its best levels in recent years.
On October 16, 2018, Luxor International Airport won first place award in airport safety by the Airports Council International (ACI). The award came during the ACI's annual meeting in Abidjan, Côte d'Ivoire, which was attended by 51 countries representing more than 270 international airports in Africa.
On October 19, 2018, Dr. Ezz El Din Abu Steit, Egypt's Minister of Agriculture & Land Reclamation received Alain-Richard DONWAHI, Minister of Water and Forests of the Republic of Côte d'Ivoire to discuss ways of cooperation between the two countries in fields related to the agricultural sector, including training, establishing forests, and concluding an agreement for joint cooperation between the two sides.
The volume of trade exchange between Egypt and Côte d'Ivoire increased to reach 64.6 million dollars during 2018, compared to 49.3 million dollars during 2017 according to a report issued according to a report issued by the Bureau of African Affairs and the COMESA unit of the commercial representation office.
The report pointed out that the Egyptian exports to Côte d'Ivoire rose to $ 62.2 million in 2018, compared to $ 47.2 million in 2017. Also, the Egyptian imports increased to record $ 2.4 million during 2018, compared to $ 2.2 million during 2017.
Egypt participated by a tripartite delegation, "Government, business owners and workers", headed by Minister of Manpower Mohamed Saafan in the fourteenth regional meeting of the International Labor Organization (ILO).
At the conclusion of its work in Côte d'Ivoire, "Abidjan Declaration" was issued The declaration focuses on making decent work a reality for Africa's youth as well as developing skills, technological pathways, and productivity for a brighter future in Africa, in addition to transforming Africa's informal and rural economy for decent work, respecting international labour standards, promoting social dialogue and ensuring gender equality.
On February 29, 2020, Egypt's minister of communications and information technology Amr Talaat has discussed with the Ivorian Ambassador in Cairo Timothy Ezouan means of boosting bilateral ties in the field of digital transformation.
 The meeting asserted the deep bilateral relations between Egypt and Côte d'Ivoire at all levels, especially in the field of communications and information technology. The two sides mulled activating a memorandum of understanding signed between the two countries, which was witnessed by the Presidents of both countries during the visit of President Abdel Fattah El Sisi to Abidjan in April, 2020.
This Memorandum of Understanding stated on fostering cooperation and the exchange of experiences between Egypt and Côte d'Ivoire in the different areas of communications and information technology, including digital transformation, cyber security, as well as the establishment of technological zones.
The meeting, also, mulled ways to strengthen bilateral cooperation in the domains of technological innovation and entrepreneurship, as well as building capacities of teams tasked with the management of incubators and technology startups, in addition to cooperation in developing digital skills of young people in advanced technologies, salient of which are artificial intelligence, virtual reality, blockchain, internet of things, and fifth generation.
Moreover, the meeting called for the participation of Ivorian youth in Africa Games and Digital Applications Initiative (AGDA) launched by President Abel Fattah el-Sisi, which aim to qualify 10,000 young Egyptian and African people to develop games and digital applications using the latest technologies, and to encourage the establishment of 100 start-ups in the field.
The meeting, also, discussed mechanisms to support bilateral cooperation between the two countries in the field of digital transformation through knowledge transfer and exchange of best practices in the field of digital identity, in addition to supporting the communications infrastructure of the Republic of Cote d'Ivoire and cooperation in facilitating the provision of digital services to citizens, as well as enhancing financial inclusion and electronic payments.
Most Visited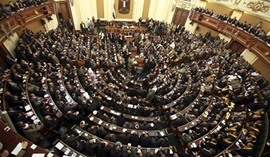 Sunday، 27 November 2022 02:37 PM
Wednesday، 23 November 2022 07:50 PM
Saturday، 26 November 2022 08:57 AM