Economic Relations
Monday، 14 December 2015 12:00 AM
The volume of the Nasr Import and Export Company in the past five years (Egyptian exports) amounted:
The branch business in 2005 = 847.536 U.S. dollars.
In 2006 = 1017000U.S. dollars.
In 2007 = 1,000,321 U.S. dollars
In 2008 = 846.716 U.S. dollars.
In 2009 = 758.400 U.S. dollars.
One of the biggest buildings in the capital Niamey is El-Nasr Building (Victory) which is an Egyptian government property.
Despite some difficulties on both sides, there is an Egyptian - Niger joint farm of about 200 acres, with only 80% of the total area cultivated land.
Contractual Framework
Egypt established diplomatic relations with the Republic of Niger since its independence from France in 1960, the date which was followed by a series of agreements and protocols as follows:
Agreement on Cultural and Scientific Cooperation signed on 15/3/1963 and became effective as of 24/07/1963.
Trade agreement signed on 22/06/1966.
A trade protocol signed on 22/05/1969.
Memorandum of Understanding on Cooperation in the field of Nuclear Matter Transfer signed in Cairo on 6/12/1983 and came into effect as of 9/6/1984.
Agreement on the establishment of an extended joint cooperation committee signed in Cairo on 6/12/1983 and came into force on 9/6/1984.
Agreement on a Joint Farm signed on 25/02/1997.
Agreement on Promoting and Protecting Investment, signed in Niamey on 4/3/1998.
Agreement signed between the Egyptian Fund for Technical Cooperation with Africa and the Government of Niger signed in Niamey on 3/9/1993.
A cooperation agreement between Al-Azhar and the Government of Niger signed on 16/12/1998.
Protocol on cooperation in the field of higher education covered the period from 2000 to 2005 was signed in Cairo on 27/10/2002 and entered into force since then.
Two Memoranda of Understanding on cooperation between foreign ministries and others in the field of tourism signed during the Joint Committee at its fourth session in Cairo from 24 to 26 April 2005.
Protocol on cooperation between Cairo University and Abdo Mamouni,Niamey to help establish an Arabic language department at the Abdo Mamouni University as well as a specialized department in the field of Egyptology at the Institute of Human Sciences Research at the same university signed in Niamey, 08/12/2005.
Most Visited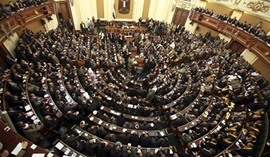 Sunday، 27 November 2022 02:37 PM
Wednesday، 23 November 2022 07:50 PM
Saturday، 26 November 2022 08:57 AM