Cultural Relations
Monday، 14 December 2015 12:00 AM
Al-Azhar mission in Niger involves 44 Sheikh working in eight provinces in Niger.
The Egyptian Embassy cooperates with the Rector of Abdou Moumouni University in establishing a "faculty for the Arabic language and Islamic education" with the aim of settling the Arabic language in Niger. The Islamic Development Bank would contribute with $6 million. The Embassy is seeking to establish the Egyptology Centre that was suspended nearly three years before.
Upon request from the Grand Imam Ahmed Al-Tayyeb, the embassy is seeking the establishment of an Institute after that pattern in "Shiota" the spiritual centre of the Tijaniyya in Niger.
The embassy communicates with those responsible for preaching and educational action supporting the Islamic brotherhood and settling the Arabic language through consolidating relations with the syndicate of the Arabic language teachers, Arab culture bearers and officials of Arab Ministries of Basic and Higher education in addition to the Tijani Caliph.
Most Visited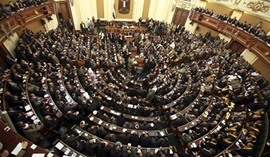 Sunday، 27 November 2022 02:37 PM
Wednesday، 23 November 2022 07:50 PM
Saturday، 26 November 2022 08:57 AM