Tanzania
Mutual Visits
Monday، 18 January 2016 12:00 AM
On 19/3/2020, Foreign Minister Sameh Shoukry handed over a message from President Abdel Fattah El Sisi to President John Joseph Pombe Magufuli of Tanzania on the latest developments of the Grand Ethiopian Renaissance Dam (GERD) file.Tanzanian Foreign Minister Palamagamba Kabudi received Sisi's message during talks with Shoukry who is on a tour of some African countries including South Africa, Tanzania and Burundi to hand over messages from President Sisi to their leaders, said Foreign Ministry Spokesman Ahmed Hafez. Shoukry conveyed the greetings of president Sisi to his Tanzanian counterpart and reviewed during his talks with Tanzanian officials the latest developments in GERD talks by Egypt, Sudan and Ethiopian under the auspices of the United States and the World Bank. The Tanzanian top diplomat voiced appreciation of Egypt's efforts and the flexibility it has shown during the US-sponsored talks to reach an agreement securing the interests of the three Nile Basin countries. Shoukry praised the Egyptian-Tanzanian relations, reaffirming Cairo's keenness on supporting Tanzania's development efforts, Hafez concluded.
On 6/11/2015, Agriculture Minister visited Tanzania and leading the Egyptian delegation to the inauguration ceremony of Tanzanian President John Magufuli in the capital Dar es Salaam. He stressed the strong relations between Egypt and Tanzania in the various fields especially the agriculture domain.
On 8/6/2014, Tanzanian Foreign Minister heading a delegation and arrived in Cairo to attend the inauguration ceremony of President Abdel Fattah El-Sisi at Al Ittihadiya presidential palace.
On 25/4/2014, Tanzanian President Jakaya Kikwete received Prime Minister who conveyed to him greetings of former President Adly Mansour on the occasion of the 50th anniversary of Tanzania's union. The meeting took up regional and international issues as well as the latest developments in Egypt, especially the implementation of the roadmap plan declared in the wake of June 30 Revolution.
On 22/2/2014, Foreign Minister visited Tanzania and handed over a message from former President Adly Mansour to Tanzanian President Jakaya Mrisho Kikwete on Egypt's vision for boosting relations with Tanzania along with the recent developments in the region and the African continent.
On 22/2/2014, Foreign Minister interviewed by the Tanzanian TV during his visit to the Tanzanian capital Dar es Salaam. The interview tackled ways of boosting bilateral ties in the political, economic and trade fields.
In April 2012, the Egyptian-African Company (EAC) has partnered with a Tanzanian firm, Agro Forest Plantation (AFP) to develop a sugar factory in Rufiji, Tanzania that is expected to generate 750 metric tons of sugar daily.
In December 2003, Egypt participated in the African Exhibition held in Dar es Salaam.
In July 2003, Egypt and Tanzania agreed that there is need to establish a free trade zone between them.
In January 2003, Benjamin Mkapa visited Egypt for talks on African issues and ways of promoting bilateral ties.
In October 2002, an Agreement was signed whereby the Egyptian-Tanzanian Business Council was established.
Most Visited
Wednesday، 23 November 2022 07:50 PM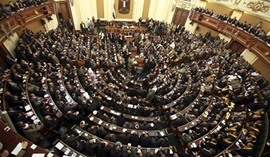 Saturday، 26 November 2022 07:34 AM
Sunday، 20 November 2022 09:47 PM